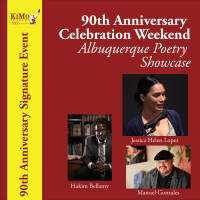 Live at the KiMo Presents
Albuquerque Poetry Party: A Showcase of ABQ Celebrated Poets
FREE 90th Anniversary Celebration Weekend
KiMo Theatre, 423 Central Ave NW
Time: 7:30pm Day: Friday Doors: 7:00pm Ages: All Ages Price: FREE
This Event Has Ended
Albuquerque Poetry Party: A Showcase of ABQ Celebrated Poets
On Friday evening September 22nd, 2017 at 7:30pm , the KiMo Theatre will produce a "poetry party" that will feature a dozen award-winning and competition-winning page and performance poets who make Albuquerque their home.  Each poet will select and deliver from stage about 10 minutes of their favorite works. Admission is FREE to the public.  Doors open at 7pm. 
Jessica Helen Lopez, the City of Albuquerque's Second Poet Laureate (2014 to 2016) will serve as the evening's Master of Ceremonies.  Scheduled to join Ms. Lopez on stage will be the inaugural Albuquerque Poet Laureate, Hakim Bellamy (2012 to 2014). and the 3rd and current Albuquerque Poet Laureate, Manuel Gonzales (2016 - 2018).  All three have won regional and national Poetry Slam Competitions as champions. 
The intention is to present an ethnically diverse and age diverse group of accomplished poets - Hispanics, African Americans, Anglos, Asian Americans, and Native Americans - who speak with different voices from different perspectives about their powerful personal experiences, trials and successes, in the Duke City and New Mexico.  The promising and acclaimed teen poets, Zavier (ZMan) Thompson and Sarita Sol Gonzalez, will perform their recent Slam-style creations.  Established and mature poets who will participate, with years as prominent leaders of the Albuquerque poetry scene and literary community, will include Don McIver (A Bigger Boat, The Noisy Pen), the bilingual poet Levi Romero (A Poetry of Remembrance, NM Centennial Poet, 2010) and Mary Oishi, Asian- American poet (Spirit Birds They Told Me, When I sing of seeds) and Frequest guest on the KUNM Radio program, Spoken Word Hour. 
A Special treat during the evening's two segments of poetry will be integrated acoustic guitar music and vocals by Albuquerque singer / songwriter, Keith Sanchez. The literary work (books and CD's) of the participating poets will be available for purchase, and author autographs, after the live performances.