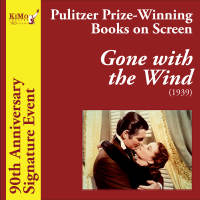 Live at the KiMo Presents
Gone with the Wind (1939) with ABQ Early Movie Palaces
FREE 90th Anniversary Celebration Weekend
KiMo Theatre, 423 Central Ave NW
Time: 1:00pm Day: Sunday Doors: 12:30pm Ages: All Ages Price: FREE
Gone with the Wind (1939) with ABQ Early Movie Palaces
Scarlett is a woman who can deal with a nation at war, Atlanta burning, the Union Army carrying off everything from her beloved Tara, the carpetbaggers who arrive after the war. Scarlett is beautiful. She has vitality. But Ashley, the man she has wanted for so long, is going to marry his placid cousin, Melanie. Mammy warns Scarlett to behave herself at the party at Twelve Oaks. There is a new man there that day, the day the Civil War begins. Rhett Butler. Scarlett does not know he is in the room when she pleads with Ashley to choose her instead of Melanie. Written by Dale O'Connor

Stars:
Clark Gable, Vivien Leigh, Thomas Mitchell

Rated (G)
3h 58min

Doors open... 12:30pm
Devin O"Leary at 1pm... History of Albuquerque DowntownTheaters
Teresa Cutler (UNM) at 1:30pm -- Background on the Film and Its Awards
Start Film 2pm
Intermission about 3:55pm (20 minutes)
Second Half Film starts about 4pm
Film Ends about 5:55pm.