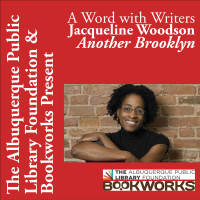 Albuquerque Public Library Foundation & BookWorks Presents
A Word With Writers
Jacqueline Woodson
KiMo Theatre, 423 Central Ave NW
Time: 7:00pm Day: Tuesday Doors: 6:30pm Ages: All Ages
This Event Has Ended
A Word with Writers, Jacqueline Woodson 
Bookworks & the Albuquerque Public Library Foundation Presents A Word With Writers with Jacqueline Woodson 
Bookworks and the Albuquerque Public Library Foundation welcome National Book Award and Newbery Honor winning author, Jacqueline Woodson, to Albuquerque as part of their literary fundraiser, A Word With Writers. Each ticket includes a donation to the library foundation and a signed paperback. Ms. Woodson's other books will also be available for purchase.
About Another Brooklyn:
For August, running into a long-ago friend sets in motion resonant memories and transports her to a time and a place she thought she had mislaid: 1970s Brooklyn, where friendship was everything.
August, Sylvia, Angela, and Gigi shared confidences as they ambled their neighborhood streets, a place where the girls believed that they were amazingly beautiful, brilliantly talented, with a future that belonged to them.
But beneath the hopeful promise there was another Brooklyn, a dangerous place where grown men reached for innocent girls in dark hallways, where mothers disappeared, where fathers found religion, and where madness was a mere sunset away.
Jacqueline Woodson's Another Brooklyn heartbreakingly illuminates the formative period when a child meets adulthood--when precious innocence meets the all-too-real perils of growing up. In prose exquisite and lyrical, sensuous and tender, Woodson breathes life into memories, portraying an indelible friendship that united young lives.
Another Brooklyn is an enthralling work of literature from one of our most gifted novelists.
Jacqueline Woodson is the bestselling author of more than two dozen award-winning books for young adults, middle graders, and children, including the New York Times bestselling memoir Brown Girl Dreaming, which won the 2014 National Book Award, the Coretta Scott King Award, a Newbery Honor Award, an NAACP Image Award, and the Sibert Honor Award. Woodson was recently named the Young People's Poet Laureate by the Poetry Foundation, and she is a four-time Newbery Honor winner, a four-time National Book Award finalist, and a two-time Coretta Scott King Award winner, among many prizes and honors. She lives with her family in Brooklyn, New York.
Event date: 
Tuesday, June 13, 2017 - 7:00pm
Event address: 
KiMo Theater
423 Central Ave NW
Albuquerque, NM 87107
Books will be available for purchase on site or visit: