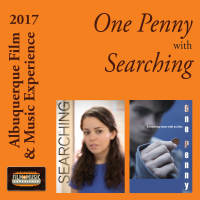 Albuquerque Film & Music Experience Presents:
One Penny (USA 2016) with Searching (USA 2016)
Feature / Drama / Short
KIMO THEATRE, 423 CENTRAL AVE NW
Time: 7:30pm Day: Wednesday Doors: 7:00pm Ages: All Ages Price: $10
This Event Has Ended
One Penny (USA 2017)
One Penny is the story of a young boy Dylan who is stripped of his privileged life and forced to live on the streets. He is taken in by a homeless man known as 'Professor' living in a homeless community Shepherd's Cove.   Flash forward 10 years, Dylan now an ambitious teen struggles with the realities of being homeless. He devises a plan with his best friend Collin to help the community and get off the streets. They run into problems when Dylan crosses paths with a local gangster named Tristan.   As the story unfolds we learn that Dylan and Tristan have a past that will connect them forever
1hr 31minutes  Adventure / Drama
Director:  Michael DeVita
Searching (USA 2016)
A daughter asks her mom the psychologist a simple question, but the answer could uproot their world. The daughter searches for a painful truth - but painful to whom?
3 minutes / Short / Drama
Director:  Albert Fry Jr.