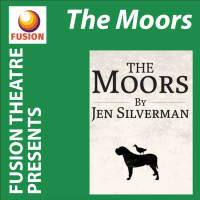 FUSION Theatre Company Presents
THE MOORS
by Jen Silverman
KiMo Theatre, 423 Central Ave NW
Time: 7:00pm Day: Saturday Doors: 6:30pm Ages: 12+ Ages Price: $3 - $40
This Event Has Ended
Presented by FUSION, New Mexico's professional theatre company. 
THE MOORS
by Jen Silverman
Directed by Robb Anthony Sisneros
Starring: Bruce Holmes, Jacqueline Reid, Laurie Thomas & Caitlin Aase, Angela Littleton, Wendy Scott
March 8th - 23rd
The Cell Theatre, 700 1st St. NW, Downtown Albuquerque
3/8 at 8 pm, 3/9 at 6 pm, 3/10 at 2 & 8 pm, 3/11 at 3 pm
3/15 at 7 pm, 3/16 at 8 pm, 3/17 at 2 & 8 pm, 3/18 at 3 pm
3/22 at 7 pm, 3/23 at 8 pm
March 24th, 7:00 pm
The KiMo Theatre, 423 Central Ave SW, Downtown Albuquerque
******************
The bleak moors of England. The bleakest. Two spinster sisters—one desperately unhappy, the other resolutely miserable—live with their elder brother and their mastiff in a gloomy, old mansion. When a governess is summoned to their isolated home, teeming with secrets and desires, what price might they pay for love? Inspired by Charlotte Brontë's letters recounting her life on the Yorkshire moors, Ms. Silverman's play received the 2015 Edgerton Foundation New American Plays Award and premiered at Yale Repertory Theatre in January of 2016. "The sense of location permeated the letters [and] emerged as a character," says Silverman. "It mesmerized me and it made me think about how people condition themselves against such a bleak and unworldly landscape, and how that relative inhospitality offers a kind of permission—particularly for women—to let them dream in a way they might not otherwise."
FUSION is thrilled to bring Ms. Silverman's new play to our mainstage season having premiered her short work The Education of Macaloco and her adaptation of Alex Paramo's Princess Marisol and the Moon Thieves
Visit FUSIONnm.org for additional information.