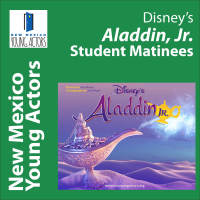 New Mexico Young Actors Present
ALADDIN, JR. - Student Matinee / Reservations 821-8055
Music by Alan Menken / Lyrics by Howard & Tim Rice
Book Adapted & Additional Lyrics by Jim Luigs
Time: 10:00am Day: Thursday Doors: 9:30am Ages: All Ages
This Event Has Ended
Aladdin, Jr.
KiMo Theatre, 423 Central Ave. NW, Albuquerque, NM 87102
Directed by Paul Bower
Choreography by Josh Megill
Aladdin, "street rat" of Agrabah, needs to figure out how to get past Jafar and the Sultan in order to win the hand of Princess Jasmine. Yet, with the help of a special Genie and a magic carpet ride, he might just succeed. Come join us for a night in Arabia.
Performances for School Groups
Tuesday, April 10, 10:00 a.m.

Wednesday, April 11, 10:00 a.m.

Thursday, April 12, 10:00 a.m.

Friday, April 13, 10:00 a.m. and 12:30 p.m.
$6 per person
Call NMYA at 505-821-8055 to make a school reservation.
Public Performances
Saturday, April 14, 2:00 p.m.

Sunday, April 15, 2:00 p.m.
$12/adults, $10/children ages 12 and under
Tickets for public performances available at KiMoTickets.com or by calling the KiMo box office at 505-768-3522.