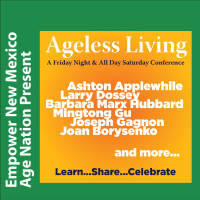 Empower New Mexico / Age Nation Presents
Ageless living - A Two day Conference That Can Change Your Life
Featuring 6 Best-Selling Authors & Wisdom Keepers
KIMO THEATRE, 423 CENTRAL AVE NW
Time: 7:00pm Day: Friday Doors: 6:30pm Ages: All Ages Price: $49 - $139
This Event Has Ended
Empower New Mexico & AgeNation Announce
Ageless Living - A Life Changing National PBS
and Live Conference Initiative
January 10, 2018 - Empower New Mexico (a 501C3) and AgeNation, New Mexico based organizations devoted to informing, inspiring and offering solutions to people in the second half of life and younger people who want to better prepare for the future, are launching Ageless Living. This innovative, first-of-its kind initiative is being birthed in New Mexico and will reach people all across the country and around the world.  It includes:
·         Three 2018 dynamic, inspirational Ageless Living Weekend Conferences.  March 16/17 at the historic KiMo Theatre in Albuquerque and June 16/17 and September 7/8 at The Lensic Performing Arts Center in Santa Fe. Together they will feature engaging and relevant live programs presented by 20 of the country's best-selling, non-fiction authors.
·         18 One-Hour original PBS Ageless Living Specials to be recorded live at the conferences, aired on New Mexico PBS and distributed nationally to the PBS Network by New Mexico PBS and Westlink
·         A new NPR Radio Magazine Program under the same banner to launch in February.
Co-Founders of Empower New Mexico and AgeNation, and Co-Producers of the Ageless Living Initiative, George and Sedena Cappannelli said: "These three heart and mind-opening conferences will feature leading authors and wisdom keepers who will guide participants on journeys of discovery, inspiration and empowerment. People of all ages will learn, celebrate and collaborate on creating a more positive and life enhancing future."
Among the internationally recognized authors who will be present are:
FEATURED BEST SELLING AUTHORS AT EACH CONFERENCE: 
March 16/17 at the KiMo Theater in Albuquerque – Andrew Harvey, Joan Borysenko, Dr. Larry Dossey, Barbara Marx Hubbard, Master Mingtong Gu and Joseph Gagnon
June 16/17 at the Lensic Performing Arts Center in Santa Fe - Jean Houston, Thomas Moore, Gay and Katie Hendricks, David Suzuki, Marianne Williamson and George and Sedena Cappannelli
September 7/8 at the Lensic Performing Arts Center in Santa Fe – Gregg Braden, Caroline Myss, Bruce Lipton, Lynne Twist, Byron Katie
George Cappannelli, who will direct the PBS series and is the recipient of two Special Category Emmy Awards, describes the 18 One-Hour PBS Specials as "a unique opportunity to contribute to a new national dialogue on what it means to live more consciously and age wisely in the 21st Century. The series will also deliver valuable and inspiring information, practical life strategies and real solutions for people who want to live quality lives and contribute their talents and experience at this critical time in our nation's history."
The New Mexico Film Board, The City of Albuquerque, The KiMo Theater and The Lensic Performing Arts Center, New Mexico PBS, Hutton Broadcasting, Natural Awakenings Magazine, Prime Time, Dekker Perich Sabatini, Green Fire Times Cumulus Radio are among those supporting this important initiative.  Discussions are also underway with a number of national, regional and sponsors.
The event organizers also hope to remind government and institutional leaders of the importance of honoring the wisdom and experience of our Elders and to raise funds to help New Mexico organizations that support vulnerable elders.
Sedena Cappannelli said, "We believe it is appropriate to birth this breakthrough initiative here in The Land of Enchantment where our cultural traditions date back more than 1,500 years to a time when ancestral tribes gathered in permanent communities that today are known as Pueblos.
"New Mexico is also known for its cultural and ethnic diversity and as a place where 'adventure fuels the soul.'  Where better" she added, "to birth a movement that will not only help redefine ageless living in the 21st Century, but also honor the wisdom of our elders and build bridges of understanding across generations."
Individual and series tickets will be available at The KiMo and The Lensic Box Offices February 1.  Organizations that wish to sponsor and individuals and groups that wish to donate can visit www.agelesslivingseries.com or email info@agenation.com
Ashton Applewhite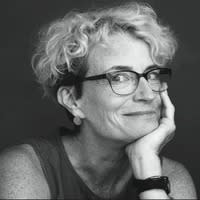 Ashton Applewhite is a leading voice in an emerging movement dedicated to dismantling ageism and making age a criterion for diversity. The author of This Chair Rocks and a TED2017 mainstage speaker, she reveals the untapped possibilities of late life—in our communities, at work, and in ourselves.  In her book This Chair Rocks: A Manifesto Against Ageism, Ashton Applewhite declares that it's time to dismantle the last acceptable prejudice; it's time for age pride. Her manifesto is so popular that Macmillan is launching its brand new imprint with it in 2018.
In 2016, she joined the PBS site Next Avenue's annual list of 50 Influencers in Aging as their Influencer of the Year. Applewhite has been recognized by The New York Times, National Public Radio, and the American Society on Aging as an expert on ageism. She blogs, has written for Harper's, Playboy, and The New York Times, and is the voice of Yo, Is This Ageist?  She has been named as a Fellow by the Knight Foundation, The New York Times, Yale Law School, and the Royal Society for the Arts. In 2015 she was included in a list of 100 inspiring women who are committed to social change Salt magazine.
Applewhite is also the author of Cutting Loose: Why Women Who End Their Marriages Do So Well and other books. She was the first woman to have four books on The New York Times best-seller list. Applewhite's memoir, "Being Blanche" was published in Harper's Magazine in June 2011.
Dr. Larry Dossey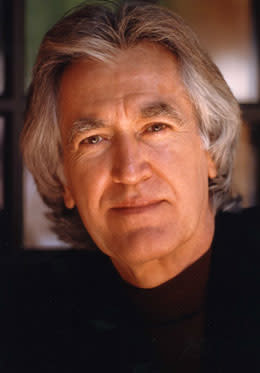 This distinguished Texas physician, deeply rooted in the scientific world, has become an internationally influential advocate of the role of the mind in health and the role of spirituality in healthcare. Bringing the experience of a practicing internist and the soul of a poet to the discourse, Dr. Larry Dossey offers panoramic insight into the nature and the future of medicine. 
Dr. Dossey is New Your Times Best Selling Author.  His books include: The One Mind, The Power of Premonitions, The Extraordinary Healing Power of Ordinary Things, Healing Beyond the Body, Reinventing Medicine, Be Careful What  You Pray For, Prayer is Good Medicine, Healing Words, Meaning & Medicine, Recovering the Soul, Beyond Illness, Space, Time and Medicine
The impact of Dr. Dossey's work has been remarkable. Before his book Healing Words was published in 1993, only three U.S. medical schools had courses devoted to exploring the role of religious practice and prayer in health; currently, nearly 80 medical schools have instituted such courses, many of which utilize Dr. Dossey's works as textbooks.  In 2013, Larry Dossey received the prestigious Visionary Award that honors a pioneer whose visionary ideas have shaped integrative healthcare and the medical profession.
Barbara Marx Hubbard

Barbara Marx Hubbard has been called "the voice for conscious evolution of our time" by Deepak Chopra and is the subject of Neale Donald Walsh's book "The Mother of Invention." Barbara is a prolific author of 9 books, a visionary social innovator and educator, and is also the co-founder and co-chair of The Foundation for Conscious Evolution and president of Evolutionary Academy.
Barbara is co-chair of the Center of Integral Wisdom and is writing three books with the Center President Marc Gafni to Evolve the Source Code of our Culture. She also co-produced "Birth 2012: Co-Creating A Planetary Shift in Time" alongside The Shift Network.
In 1984, Barbara's name was placed in nomination for the Vice Presidency of the United States on the Democratic ticket. She is also the co-founder of The Association for New Thought (AGNT), the World Future Society, and a member of the Club of Budapest.
Dr. Joan Borysenko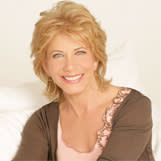 This distinguished pioneer in integrative medicine is a world-renowned expert in the mind/body connection. Her work has been foundational in an international health-care revolution that recognizes the role of meaning, and the spiritual dimensions of life, as an integral part of health and healing. Eloquent and inspiring in settings that range from hospitals to hospices, from theaters to conference venues, and from boardrooms to houses of worship, she is a credible bridge between faith and reason. Her brilliance, humor, and authenticity—in combination with the latest research—make her a compelling and inspiring speaker and writer.
Dr. Borysenko earned her doctorate in Medical Sciences from the Harvard Medical School, where she completed post-doctoral training in cancer cell biology, in the new field of behavioral medicine, and a third post-doctoral fellowship in psychoneuroimmunology.
Dr. Borysenko's warmth and credibility—plus her lively sense of humor—create a compelling presence. She is author or co-author of 13 books including the New York Times Best Seller, Minding the Body, Mending the Mind. Has done numerous audio and video programs, including the Public Television Special Inner Peace for Busy People and she is the Founding Partner of Mind/Body Health Sciences, LLC located in Santa Fe, New Mexico.
Master Mingtong Gu

Named Qigong Master of the Year by the 13th World Congress on Qigong and Traditional Chinese Medicine, Mingtong Gu possesses a profound ability to harness energy in order to accelerate personal and global healing, making him a sought-after healer, practitioner, and teacher.
As a child growing up in China during the Cultural Revolution, Master Gu endured hunger, poverty, and a long separation from his birth family. Despite these incredible hardships, he became the first from his village to attend college, earning a bachelor's degree in mathematics followed by two master's degrees, including an MFA from Ohio State University.
In 1997, Master Gu returned to China for qiqong training under Dr. Pang Ming, a qigong grandmaster trained in Western medicine and traditional Chinese medicine, and the founder of the world's largest qigong hospital. During his training, Master Gu observed thousands of cases of chronic and "incurable" diseases being healed at this "medicine-less" hospital, which has now treated over 200,000 patients with over 185 different illnesses, with a 95 percent effective improvement rate.
Master Gu's now teaches to thousands of people in the United States, China, and Europe through his workshops, books, and education programs and is the founder of the Chi Center and the Center for Wisdom Healing Qigong, a beautiful 79-acre resort located 20 minutes south of Santa Fe, New Mexico.
Joseph Gagnon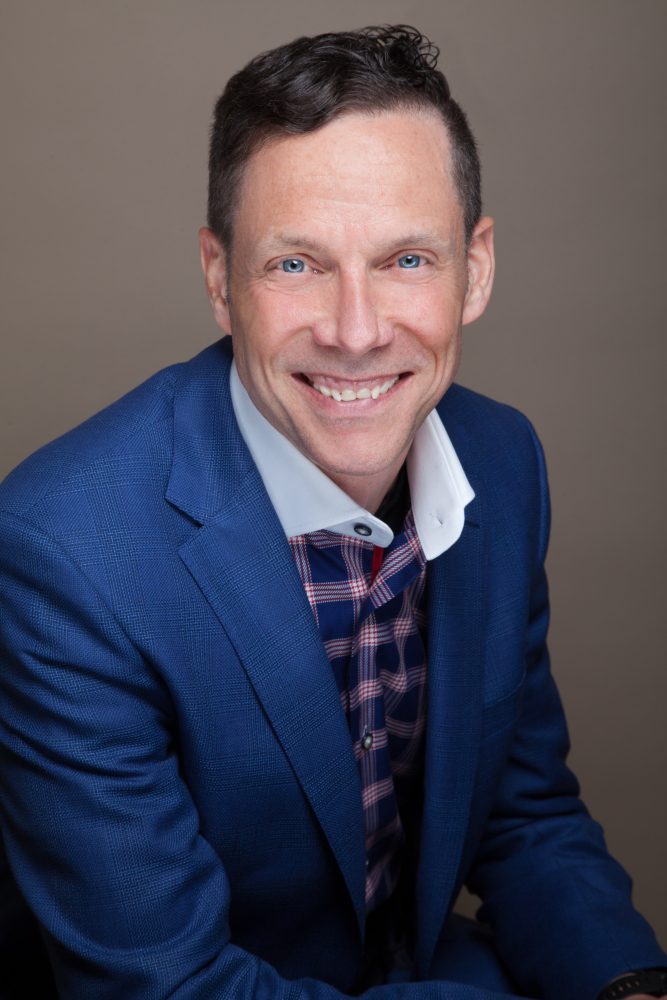 Joseph Gagnon is an entrepreneur, innovator, author and passionate high performance, endurance athlete. having completed six Ironman triathlons, fifteen ultra-marathons, and thirty-four marathons.  In 2017, he ran Six Marathons on Six Continents on Six Consecutive days.
He is the founder of The High Performance Life (THPL),an organization that advances a philosophy and guide to support people in learning techniques for mental toughness, creative problem solving, leadership, and personal effectiveness. His prime focus is on practices in the areas of Life, Learning and Fitness for personal fulfillment and improving human performance in all walks of life.
Over the past 30+ years he as served in the role of CEO, COO, partner, and president of a number of leading companies and currently serves as the CEO of Performance Tea. He has focused on building business strategies and technology roadmaps, primarily in SaaS businesses, to deliver next generation solutions for consumers who use products and services from many of the leading Fortune 500 companies.