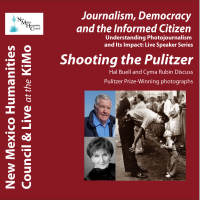 NEW MEXICO HUMANITIES COUNCIL and KiMo/CABQ PRESENTS:
Shooting the Pulitzer - Hal Buell & Cyma Rubin discuss Pulitzer Prize-Winning photographs
Special FREE LIVE EVENT
KiMo Theatre, 423 Central Ave NW
Time: 6:00pm Day: Thursday Doors: 5:30pm Ages: All Ages Price: FREE
Tickets available at the door.
Shooting the Pulitzer
Hal Buell discusses Pulitzer Prize-Winning photographs
Albuquerque, NM – The Pulitzer Prize, one of the world's most prestigious awards made annually for excellence in journalism and the arts, will be the subject of Shooting the Pulitzer, a visual presentation on the Pulitzer's awards to news photography. Famous Pulitzer pictures from World War II to the present will be highlighted.
Hal Buell, former head of the Associated Press's (AP) worldwide photo service, has covered stories in 35 countries during his AP career and headed the wire services photo operation for 25 of his more than 40 years with AP. During Buell's tenure as head of the AP picture service, AP staff won 12 Pulitzer Prizes, plus other national and international awards for photography. He has authored numerous books, including MOMENTS: The Pulitzer Prize-Winning Photographs and was a two-time member of the jury that selects the winning photos for the Pulitzer Prizes.
An appreciation of the importance of photojournalism will be the subject of Hal Buell's presentation. He will offer special insight into visual literacy in a world of staggering photo content that flashes across the media and the internet.
"Modern technology," Buell said, "has delivered the greatest number of pictures in the fastest time providing in many cases an overload of visually strong and influential material."
In his fully illustrated presentation, Buell describes how the picture was made and the obstacles the photographer faced often at great risk. In some cases, via a video clip, the photographer describes his story, the environment and the challenge encountered to freeze a particular moment in time.
"Many of the Pulitzer pictures are well known, recognizable by any reader or viewer who has followed the news," Buell said, "but their back stories are not as well known, and are often more interesting and telling than the photos themselves."
Hal's presentation will offer a stimulating look at journalistic ethics and taste. Time will be allotted for audience engagement, Q&A.
Join us on Thursday, September 27, 2018 at 6:00 pm at the historic KiMo Theatre, 423 Central Ave NW, Albuquerque. This program is FREE and open to the public.
The New Mexico Humanities Council seeks to engage New Mexicans with history, culture and diverse humanities topics through public programming. Learn more at https://ddei3-0-ctp.trendmicro.com:443/wis/clicktime/v1/query?url=www.nmhum.org&umid=96364998-728E-D305-8C79-0466054F4BF3&auth=f0ebcd052f61e7a39dc93191e8a01d02608499af-1034fe47673da4401882705824f3afea83d7cfee.