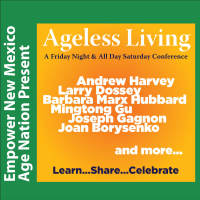 Empower New Mexico / Age Nation Presents
Ageless living - A Two day Conference That Can Change Your Life
Featuring 6 Best-Selling Authors & Wisdom Keepers
KIMO THEATRE, 423 CENTRAL AVE NW
Time: 7:00pm Day: Friday Doors: 6:30pm Ages: All Ages Price: $49 - $139

Empower New Mexico & AgeNation Announce
Ageless Living - A Life Changing National PBS
and Live Conference Initiative
January 10, 2018 - Empower New Mexico (a 501C3) and AgeNation, New Mexico based organizations devoted to informing, inspiring and offering solutions to people in the second half of life and younger people who want to better prepare for the future, are launching Ageless Living. This innovative, first-of-its kind initiative is being birthed in New Mexico and will reach people all across the country and around the world.  It includes:
·         Three 2018 dynamic, inspirational Ageless Living Weekend Conferences.  March 16/17 at the historic KiMo Theatre in Albuquerque and June 16/17 and September 7/8 at The Lensic Performing Arts Center in Santa Fe. Together they will feature engaging and relevant live programs presented by 20 of the country's best-selling, non-fiction authors.
·         18 One-Hour original PBS Ageless Living Specials to be recorded live at the conferences, aired on New Mexico PBS and distributed nationally to the PBS Network by New Mexico PBS and Westlink
·         A new NPR Radio Magazine Program under the same banner to launch in February.
Co-Founders of Empower New Mexico and AgeNation, and Co-Producers of the Ageless Living Initiative, George and Sedena Cappannelli said: "These three heart and mind-opening conferences will feature leading authors and wisdom keepers who will guide participants on journeys of discovery, inspiration and empowerment. People of all ages will learn, celebrate and collaborate on creating a more positive and life enhancing future."
Among the internationally recognized authors who will be present are:
FEATURED BEST SELLING AUTHORS AT EACH CONFERENCE: 
March 16/17 at the KiMo Theater in Albuquerque – Andrew Harvey, Joan Borysenko, Dr. Larry Dossey, Barbara Marx Hubbard, Master Mingtong Gu and Joseph Gagnon
June 16/17 at the Lensic Performing Arts Center in Santa Fe - Jean Houston, Thomas Moore, Gay and Katie Hendricks, David Suzuki, Marianne Williamson and George and Sedena Cappannelli
September 7/8 at the Lensic Performing Arts Center in Santa Fe – Gregg Braden, Caroline Myss, Bruce Lipton, Lynne Twist, Byron Katie
George Cappannelli, who will direct the PBS series and is the recipient of two Special Category Emmy Awards, describes the 18 One-Hour PBS Specials as "a unique opportunity to contribute to a new national dialogue on what it means to live more consciously and age wisely in the 21st Century. The series will also deliver valuable and inspiring information, practical life strategies and real solutions for people who want to live quality lives and contribute their talents and experience at this critical time in our nation's history."
The New Mexico Film Board, The City of Albuquerque, The KiMo Theater and The Lensic Performing Arts Center, New Mexico PBS, Hutton Broadcasting, Natural Awakenings Magazine, Prime Time, Dekker Perich Sabatini, Green Fire Times Cumulus Radio are among those supporting this important initiative.  Discussions are also underway with a number of national, regional and sponsors.
The event organizers also hope to remind government and institutional leaders of the importance of honoring the wisdom and experience of our Elders and to raise funds to help New Mexico organizations that support vulnerable elders.
Sedena Cappannelli said, "We believe it is appropriate to birth this breakthrough initiative here in The Land of Enchantment where our cultural traditions date back more than 1,500 years to a time when ancestral tribes gathered in permanent communities that today are known as Pueblos.
"New Mexico is also known for its cultural and ethnic diversity and as a place where 'adventure fuels the soul.'  Where better" she added, "to birth a movement that will not only help redefine ageless living in the 21st Century, but also honor the wisdom of our elders and build bridges of understanding across generations."
Individual and series tickets will be available at The KiMo and The Lensic Box Offices February 1.  Organizations that wish to sponsor and individuals and groups that wish to donate can visit www.agelesslivingseries.com or email info@agenation.com