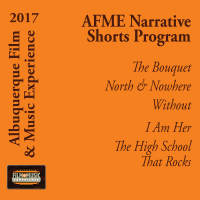 Albuquerque Film & Music Experience Presents:
AFME Narrative Shorts Program
The Bouquet (France 2016); North & Nowhere (USA 2017); Without (USA 2016) I am Her (USA 2017) ; The High School That Rocked! (USA 2017)
KiMo Theatre, 423 Central Ave NW
Time: 7:30pm Day: Friday Doors: 7:00pm Ages: All Ages Price: $5
This Event Has Ended
The Bouquet (France 2016)
ON A DESERTED ROAD, DRIVING AN ANTIQUE CAR, STEPHANE HURRIES UP TO A WEDDING WHOM HE IS THE BEST BOY. TERRIBLY LATE, HE REALIZES THAT HE FORGOT THE BRIDE'S BOUQUET. FORTUNE FAVORS HIM WHEN HE HAS THE OPPORTUNITY TO TAKE POSSESSION OF A FUNERAL BOUQUET TIED ON A TREE. BUT FATE TAKES IT OUT ON HIM WHEN HIS GPS LOSES SIGNAL. UNABLE TO GET HIS BEARINGS, HE WILL HAVE TO TAKE WITH HIM THE ONLY PERSON WHO CROSSES HIS PATH, AND WHO IS ABLE TO HELP : CHARLOTTE… WHO JUST PLACED HER FUNERAL BOUQUET ON THE TREE. STEPHANE TRIED DESPERATELY TO HIDE THE BOUQUET AND GET THE PATHWAY FROM CHARLOTTE UNTIL HE AVOID AN CAR ACCIDENT AND BRAKES BRUTALLY. CHOCKED, CHARLOTTE DISCOVER THE BOUQUET ON HER KNEES AND HIT STEPHANE WITH IT. SHE ASK HIM TO MAKE HER A BOUQUET WITH THE FLOWERS IN THE FIELD AND STEPHANE ACCEPT. CHARLOTTE STEALS THE CAR AND THE RING ET LET STEPHANE ALONE...
10 min / Short
Director: JULIEN SEGARD, ROMAIN CARCIOFO
North & Nowhere (USA 2017)   
A GIRL, A GUN AND A LAST CHANCE.
11 min /  Short
Director: SCOTT BALLARD
Without (USA 2016)
"WITHOUT" IS A STORY ABOUT SOLITUDE AND THE WAY IT IS ENHANCED BY THE GEOGRAPHIC AND PSYCHOLOGICAL ISOLATION OF SMALL, MARGINALIZED REALITIES. AT THE SAME TIME, THESE REALITIES ARE A WITNESS TO THE STRONG HUMAN BONDS CREATED BY THE INEVITABLE PROXIMITY THAT CONNECTS PEOPLE. THE SCENE OPENS IN THE HEART OF LUCANIA (BASILICATA), SOUTHERN ITALY, IN THE STILLNESS OF A HEAT-DRENCHED VILLAGE. THE FOCUS TURNS TO A SOLITARY OLD MAN AFFLICTED BY ALCOHOLISM WHOSE LIFE SEEMS HEADED TOWARDS DECLINE. SCOFFED BY THE REST OF THE VILLAGE, HE WANDERS OFF INTO THE COUNTRYSIDE, FOR A WALK THAT WILL CHANGE HIS LIFE FOREVER.
15 min / Short 
Director:  PAOLA SINISGALLI
I am Her  (USA 2016) 
OUT OF THE LIMELIGHT, UNDER THE STREETLIGHT, ENTER THE WORLD OF NYC'S TRANSGENDER UNDERCLASS. ONE CHURCH OPENS ITS DOORS TO PROVIDE MEALS, CLOTHING AND SOMETIMES, A LITTLE DRAG SHOW MAGIC. TWO TRANSGENDER WOMEN STRUGGLE TO BEAT THE ODDS. SACHA, ABANDONED AND ABUSED FROM BIRTH, FINDS EMPOWERMENT AND BEAUTY IN HER PERFORMANCES. KENYATTA, AN HIV+ RAPPER, REJECTS DRAG AS DISRESPECTFUL TO HER IDEA OF WOMANHOOD. BOTH WOMEN FACE A STEEP CLIMB TO STABILITY, OFTEN TAKING MORE BACKWARD STEPS THAN FORWARD MARCH.   DISEASE, ABUSE, AND HOMELESSNESS CAST LONG SHADOWS. ONE FRIAR, BROTHER PETER, MAKES IT HIS MISSION TO HELP BUILD NOT JUST THEIR SELF CONFIDENCE - BUT ALSO, BUILD THEM BADLY NEEDED HOUSING WITHIN THE CHURCH. THIS IS PERSONAL: HIS WORK WITH THIS TRANSGENDER POPULATION HAS MADE HIM ACCEPT PAINFUL SECRETS OF HIS OWN. THOUGH IN THE MIDST OF A BATTLE WITH CANCER, HE WINS $1.8 MILLION FROM THE CITY FOR A HOUSING PROGRAM, ONLY TO GET TURNED DOWN, AND OUT, BY A FELLOW CHURCH LEADER. PETER PREPARES TO LEAVE THE CHURCH, BUT WITHOUT HIS LINCHPIN SUPPORT, THE COMMUNITY IS LEFT IN TENUOUS BALANCE. KENYATTA TURNS TO PROSTITUTION; IT'S NOT THE FIRST TIME. PETER PRESSES ON TO FIND A PLACE TO BUILD HIS HOUSING. SACHA STRIVES TO FIND HER OWN VOICE - BUT WILL THEY MAKE IT?   THIS IS A STORY OF DEEP PAIN, AND THE STUNNING RESILIENCE NEEDED TO OVERCOME IT. THESE PEOPLE BRIM WITH PATHOS, HONESTY, AND ELOQUENT GRIT. THEIR STORY UNIQUELY SHOWS: FLY WITH ONE WING IF YOU MUST, BUT NEVER BE AFRAID TO FALL.
30 min / Student Short / Documentary
Director: SASHA PEZENIK
The High School That Rocked! (USA 2017)
"THE STORY OF HOW SIX LEGENDARY BANDS IN THE ROCK AND ROLL HALL OF FAME ALL PERFORMED AT A CT SCHOOL FROM 1966-68, CREATING INDELIBLE MEMORIES FOR LOCAL STUDENTS."
27 min / DOCUMENTARY SHORT
Director: CHRISTOPHER CASEY DENTON